I didn't believe it was possible but i did manage to finish my third release by my delusional
deadline (Sunday still counts as in a week, right?)
I know a lot of people wanted a full episode but with my first midterm on wednesday and other
painful things i dont want to think about O_o, it wasn't possible. however, this clip is really fun
so i hope you all enjoy it :)

Since Mao starred with him in Tengoku de Kimi ni Aetara, Nino decided to put his sharp
tongue aside to protect her honor....


but ends up making Aiba mad


Sho invites Mao to come on Mannequin Five instead,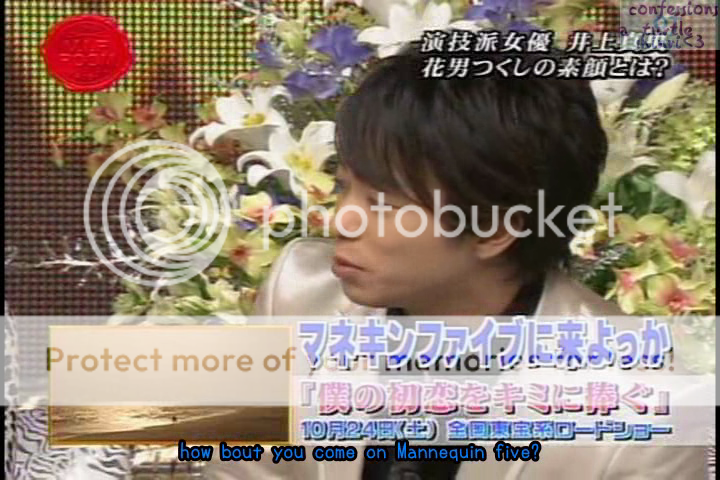 Ohno has been lying about his hobby,



And Jun has great hair



I made two file sizes again, but the smaller one
is still fairly large, im afraid. ill try again to make
a smaller one but i don't know how likely that is
going to work since this was my second attempt
at hardsubbing it. oh, and i promise the font is
bigger again ^_^

file size: 687MB and 412MB
dimensions: 720x480
length: 24 minutes
translator, timer, subber: shinri
editor: also me, unfortunately (my mom isn't allowed to know that i am still subbing :p)
raw provider: arashi x dream

687MB
single file
MU
password: d0my0ji
multiple files
Mediafire; 001 002 003 004 005 006 007
join with hjsplit
412MB
single file
MU
password: d0my0ji
multiple files
mediafire; 001 002 003 004 005

enjoy my dears :D